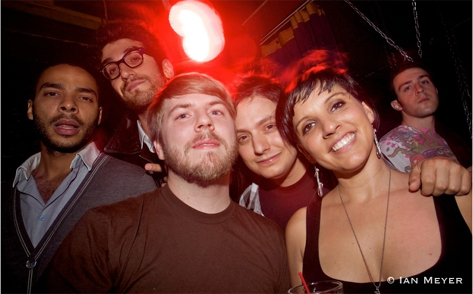 Właśnie ukazał się mix jednego z moich ulubionych dj'ów/producentów - Ayresa z NYC (w środku po lewej) -
Dance Til You're Dead
. Na trakliście miła niespodzianka - mashup Elbarto. Brawo !
Yeah Yeah Yeahs - Heads Will Roll
DJ Deeq - Just DanceThe Dream - Fast Car
Robin Thicke - Magic (Steve Aoki remix)
Royksopp - This Must Be ItThe
Juan Maclean - No Time
Mylo - Drop The Pressure (Laidback Luke Bootleg)
Calvin Harris - I'm Not Alone
Kid Cudi vs Crookers - Day N Nite (Agent X remix)
Sugababes - No Can Do (Mowgli remix)
Chelley - Took The Night (DJ Ayres Flat Beat edit)
Nicole Fasano vs Pat Rich - 75 Brazil Street
Telephoned - Pop Champagne
DJ Class ft Terence Trent D'arby - I'm The Ish (remix)
Mike V - 12 Past Midnight
Diana Ross vs Wiley - Wearing My Rolex (El Barto & Liam B remix) !!!!
Romanthony - Curious (Treasure Fingers remix)
MGMT - Of Moons, Birds and Monsters (Holy Ghost remix)
Lykke Li - Breaking It Up (Pocketknife's Loosefoot Remix)